Music Lessons & Preschool
Elevate Rock School is the premier school for Fargo music lessons. Since 2011 we have been inspiring kids to learn about drums, piano, singing, guitar & bass guitar in a new and exciting way!
We have transformed the way students learn by incorporating live performance, theory & the buddy system. Our students thrive in an environment where they are encouraged while playing their favorite music: pop, country, rock, christian and more! We bring energy and a positive atmosphere to each and every lesson.
Come in for a FREE music lesson and tour to meet the teacher and see how we make lessons FUN.
FOLLOW US ON SOCIAL MEDIA
Monday             3:00pm - 9:00pm
Tuesday             3:00pm - 9:00pm
Wednesday      3:00pm - 9:00pm
Thursday           3:00pm - 9:00pm
Friday                 Closed
Saturday            Closed
Sunday               Closed
Meet the crew at Elevate Rock School Fargo!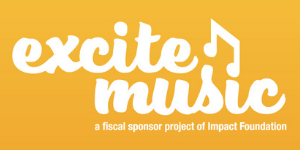 Scholarships are available through
Excite Music, a fiscal sponsorship project of Impact Foundation.
Excite Music was created so every child has the opportunity to learn and experience music, regardless of economic status.