About Elevate Rock School - Fargo
Elevate Rock School is the premier school for Fargo music lessons. Since 2011 we have been inspiring kids to learn about drums, piano, singing, guitar & bass guitar in a new and exciting way!
We have transformed the way students learn by incorporating live performance, theory & the buddy system. Our students thrive in an environment where they are encouraged while playing their favorite music: pop, country, rock, christian and more! We bring energy and a positive atmosphere to each and every lesson.
Lessons are also available ONLINE! Have fun learning your favorite instrument from the comfort of your home. Age 6 and up (yes, adults too)!
Come in for a FREE lesson and tour to meet the teacher and see how we make lessons FUN or visit our ONLINE lessons page for more details.
WE ARE MOVING! Our future home is under construction and will be finished in May 2021. That means, larger rooms, updated space for students to rock out & still a whole lot of fun!
FOLLOW US ON SOCIAL MEDIA
Monday             3:00pm - 9:00pm
Tuesday             3:00pm - 9:00pm
Wednesday      3:00pm - 9:00pm
Thursday           3:00pm - 9:00pm
Friday                 Closed
Saturday            Closed
Sunday               Closed
Meet the crew at Elevate Rock School Fargo!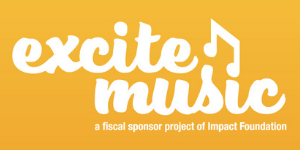 Scholarships are available through
Excite Music, a fiscal sponsorship project of Impact Foundation.
Excite Music was created so every child has the opportunity to learn and experience music, regardless of economic status.