Travis Pate
Rock Band & Music Instruction Manager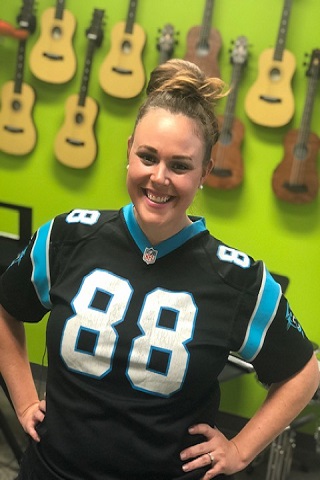 Allie Hansen
Lil Peeps, Lil Rockers, Vocals
Travis Pate
Rock Band & Music Instruction Manager
Originally from the Lake Norman area, Travis used his guitar riffs to energize his fellow youth around him in the punk/metal scene of Charlotte, NC. Coming from a musical family, Travis performed in churches and in youth-groups throughout his early life. Since 2004, he has written and performed in several locally acclaimed bands, while helping to build a community of musicians through booking local shows and coordinating with touring bands. Travis' college-age bands include Hard Pressed, Iced Out, Mean Streets, & The Lookout; primarily playing punk-rock, hardcore and thrash-metal for raucous crowds looking for mosh-pits, stage-dives and high-fives.
After graduating from Appalachian State University and moving to East Tennessee to be with his wife, Travis has played consistently in a post-metal band called I-I, while performing regularly at Christ Fellowship Church, both leading worship on vocals and electric guitar. Travis left a career at a prestigious college to start a successful company making a variety of organic products while home-schooling his children. Moving back to NC, Travis has come full circle, working to grow a younger generation of "amped" youth at Elevate Rock School!
Denise Mathern
Owner
As a child, Denise's opportunities to be enlightened by music were limited to traditional piano lessons with a no-nonsense, classical instructor; a chair in the alto saxophone section of her school's concert band; a spot in the hand bell choir at church and small roles in school musicals when she could muster up the courage to sing for try-outs. The ability to play in a rock band and perform in live production concerts would have been a dream come true.
In her heart of hearts, she is so excited to bring the Elevate Rock School concept to kids in the Lake Norman area. After relocating to Mooresville in 2014 with her husband, Lance and son, Brac (10), Denise looked everywhere for a rock band lesson experience for her son. When the search came up dry, it became Denise's mission to bring the Rock School opportunity to her community.
Denise brings with her 25 years of leadership experience within her 20-year professional marketing, development and events career. Her favorite career highlights consistently involve delivering high-energy, engaging events and live performances that put smiles on people's faces. The ability to do this while enriching children's lives and bringing this experience to her community is a true blessing.
Allie Hansen
Lil Peeps, Lil Rockers, Vocals
Heather Foster
Guitar & Vocals
Heather is a singer songwriter from Salisbury, North Carolina. At the youthful age of nine, Heather picked up her first guitar at a local shop where she began to take lessons. After learning the basic chords and their arrangements, songwriting came almost naturally. She used writing lyrics as a creative escape to speak about her life, vent her frustrations, and ultimately express her emotions in a way that felt safe. Influenced by being born and raised in the Carolinas, her music has inherited a homegrown folk and Appalachian sound mixed with today's alternative country.
As her passion grew, Heather picked up ukulele as a performing instrument along with basic piano, bass guitar, and mandolin. Years of playing these instruments, writing songs, and playing with local bar bands ultimately encouraged Heather to pursue music at a collegiate level. She earned her Bachelors degree in music at Catawba College where she doubled majored in Music Business and Popular Music. Catawba also served as the meeting place for Heather's most current band which self-released an entire album of her original work in May of 2014 called "Where She Grows, She Remains". Her college experience landed her with an internship with Soundcheck Nashville where she worked checking backline equipment for major artists including Hunter Hayes, Kacey Musgraves, and Grace Potter for events such as the Country Music Awards.
Post graduation Heather followed a different path and began working with exceptional children at a local middle school while gigging and teached private lessons. Working with children with disabilities opened up Heather's heart to the educational field. These special kids taught her the important role a teacher has in the lives of students. Teaching music and songwriting for Heather is not just about notes, chords, and rhythm. Her methods also densely incorporate the importance of confidence, providing a healthy outlet for self expression, building band relationships, and teaching kids about having fun with what you love.
Alex Carney
Drums
From 5 years old Alex was calling loudly to his parents, "Come listen to this!" as he would sit at the household upright and play a string of notes that he referred to as his "New song". Around that same age he started to play guitar, sing and play drums. He has been electrified by the power of music for almost two decades.
In several bands and an active performer in church, Alex has grown up surrounded by what it means to contribute to a group as a musician, and especially a drummer. He continued to actively work part time jobs in performance while attending Berklee College of Music, from which he graduated early and with honors. 
In the years following he would set out on many musical endeavors, one of which was joining Elevate Rock School - Lake Norman in the summer of 2018 as the drum instructor. He wants to teach kids the confidence, enthusiasm and unique bonding that comes from actively challenging yourself in music alongside others.
Lexie Trader
Keys, Bass & Vocals
Lexie grew up in a small town called Leonardtown, MD. From a very young age she was introduced to the beauty of music through her father, a talented singer who had grown up himself playing in bands throughout his childhood and adult years. Lexie started singing almost as soon as she started talking and plunking notes out on the old piano in her living room. At the age of 7 she started piano lessons. She continued to take lessons for another two years and took lessons once again in high school.
Lexie gradually drifted from piano into guitar at the age of 12. After getting the fundamentals of these instruments she began to write and compose her own original music. And the passion ensued. She started to play out at shops and venues at the age of 13 and still continues to do so.
Lexie left Maryland in 2014 and started her adventure at Catawba College in Salisbury, NC. She is now a senior there, where she studies Popular Music and Music Business paired with a minor in Marketing. At college, Lexie has expanded her knowledge in guitar and piano and added other instruments to her skill set such as: bass guitar, mandolin and ukulele. She was very excited to start an internship in the summer of 2017 with Elevate Rock School - Lake Norman and even more excited to start teaching keys, bass and vocal lessons. Lexie has a passion for music and for planting enthusiasm in kids about music. She finds inspiration in creating a new generation of rockers to conquer the world.
Ashton Eller
Keys, Bass