Travis Pate
Rock Band & Music Instruction Manager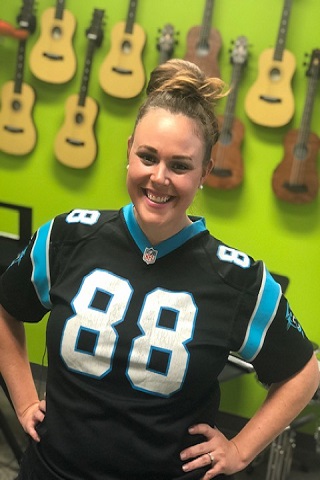 Allie Hansen
Enrollment & Scheduling Manager, Lil Peeps, Lil Rockers, Vocals
Ashton Eller
Program and Rock Band Manager & Keys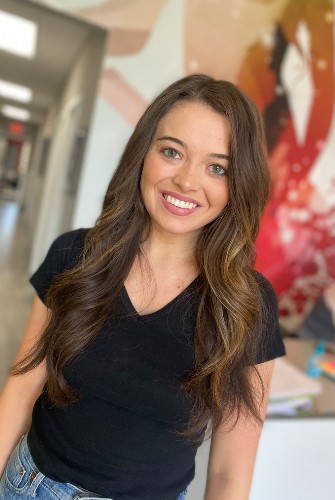 Travis Pate
Rock Band & Music Instruction Manager
Originally from the Lake Norman area, Travis used his guitar riffs to energize his fellow youth around him in the punk/metal scene of Charlotte, NC. Coming from a musical family, Travis performed in churches and in youth-groups throughout his early life. Since 2004, he has written and performed in several locally acclaimed bands, while helping to build a community of musicians through booking local shows and coordinating with touring bands. Travis' college-age bands include Hard Pressed, Iced Out, Mean Streets, & The Lookout; primarily playing punk-rock, hardcore and thrash-metal for raucous crowds looking for mosh-pits, stage-dives and high-fives.
After graduating from Appalachian State University and moving to East Tennessee to be with his wife, Travis has played consistently in a post-metal band called I-I, while performing regularly at Christ Fellowship Church, both leading worship on vocals and electric guitar. Travis left a career at a prestigious college to start a successful company making a variety of organic products while home-schooling his children. Moving back to NC, Travis has come full circle, working to grow a younger generation of "amped" youth at Elevate Rock School!
Denise Mathern
Owner
As a child, Denise's opportunities to be enlightened by music were limited to traditional piano lessons with a no-nonsense, classical instructor; a chair in the alto saxophone section of her school's concert band; a spot in the hand bell choir at church and small roles in school musicals when she could muster up the courage to sing for try-outs. The ability to play in a rock band and perform in live production concerts would have been a dream come true.
In her heart of hearts, she is so excited to bring the Elevate Rock School concept to kids in the Lake Norman area. After relocating to Mooresville in 2014 with her husband, Lance and son, Brac (10), Denise looked everywhere for a rock band lesson experience for her son. When the search came up dry, it became Denise's mission to bring the Rock School opportunity to her community.
Denise brings with her 25 years of leadership experience within her 20-year professional marketing, development and events career. Her favorite career highlights consistently involve delivering high-energy, engaging events and live performances that put smiles on people's faces. The ability to do this while enriching children's lives and bringing this experience to her community is a true blessing.

Allie Hansen
Lil Peeps, Lil Rockers, Vocals
Allie has over 12 years of early childhood education experience, accompanied with a lifetime a music education and experience as well. She attended an arts school throughout middle and high school focusing on piano and choral studies. Over the years she has run her own piano studio while also traveling to various preschools around the Charlotte area to bring music and movement adventures to even the tiniest of students!
Allie Hansen was born and raised in Charlotte, NC and moved to the Mooresville area about 2 years ago. She was recently married to her husband Stefan in August of 2018 and they have one beautiful daughter together, Penelope who is 2! With hopes of expanding her little family, she is loving calling Mooresville home and hopes to plant roots here for her own children to thrive and develop.
Heather Foster
Guitar & Vocals
Heather is a singer songwriter from Salisbury, North Carolina. At the youthful age of nine, Heather picked up her first guitar at a local shop where she began to take lessons. After learning the basic chords and their arrangements, songwriting came almost naturally. She used writing lyrics as a creative escape to speak about her life, vent her frustrations, and ultimately express her emotions in a way that felt safe. Influenced by being born and raised in the Carolinas, her music has inherited a homegrown folk and Appalachian sound mixed with today's alternative country.
As her passion grew, Heather picked up ukulele as a performing instrument along with basic piano, bass guitar, and mandolin. Years of playing these instruments, writing songs, and playing with local bar bands ultimately encouraged Heather to pursue music at a collegiate level. She earned her Bachelors degree in music at Catawba College where she doubled majored in Music Business and Popular Music. Catawba also served as the meeting place for Heather's most current band which self-released an entire album of her original work in May of 2014 called "Where She Grows, She Remains". Her college experience landed her with an internship with Soundcheck Nashville where she worked checking backline equipment for major artists including Hunter Hayes, Kacey Musgraves, and Grace Potter for events such as the Country Music Awards.
Post graduation Heather followed a different path and began working with exceptional children at a local middle school while gigging and teached private lessons. Working with children with disabilities opened up Heather's heart to the educational field. These special kids taught her the important role a teacher has in the lives of students. Teaching music and songwriting for Heather is not just about notes, chords, and rhythm. Her methods also densely incorporate the importance of confidence, providing a healthy outlet for self expression, building band relationships, and teaching kids about having fun with what you love.
Colin Rae
Drums
Mr. Colin has been surrounded by music his whole life with his journey in drumming beginning over 20 years ago when he had his first drum lesson at the age of 11. Since then, he has studied everything from jazz, marching, and orchestral percussion to funk, pop, rock, Latin, and R&B, among other styles/genres.
Mr. Colin holds a Bachelors' degree in Music from the University of North Carolina at Charlotte and has been teaching drums the past several years. In addition, he's maintained steady work as a freelance performer in the Charlotte and surrounding area. Most of his work includes Broadway musicals at theaters such as The Booth Playhouse, Central Piedmont Community College, Davidson College, The Knight Theatre, and many other venues throughout the region. He is also a member of several local bands that perform both original material and covers.
He's excited to be part of the Elevate teaching team and anxious to continue to put his heart and soul into watching his students continue to excel on drums. 
Carlos Cortez
Audio Engineer & Guitar
When Carlos isn't teaching, he often performs with his band, Bergenline, featuring his younger brother and close friends from Catawba College, where Carlos studied Music. Carlos has a background in many different musical styles including blues, rock, R&B, pop, contemporary worship.
In his original music, you'll hear those diverse influences, but Carlos can also rock a cover like nobody's business. While Carlos' instrument of choice is the guitar, he also plays other instruments such as the piano, bass, and ukulele to name a few! He loves teaching and is a superb motivator - his students soar!

Ashton Eller
Program & Rock Band Manager, Keys
Ashton Eller, a Lexington, NC native is a 2018 graduate of Catawba College in Salisbury, NC, where he received his BA degree in Popular Music and Music Business Studies. While in college, Ashton studied under Adrian Crutchfield who is the saxophone player for Lionel Ritchie, Bette Midler, and the Late Prince. He also studied under Dolph Ramseur, who is the manager for the Avett Brothers and founder of Ramseur Records.
Outside of Elevate, he is a singer/songwriter and performer and currently fronts his own band. While Ashton teaches piano, he also plays guitar, bass, drums, mandolin, and banjo. Ashton also leads worship at Journey Church of Lexington and writes songs for the church. Ashton released his debut single titled "Fast Car" in March of 2019 and is now available on all streaming platforms. 

Allie Faith Miller
Vocals
Miss Allie is a Country / Pop singer & songwriter artist from Mooresville. Her music career began at the age of four. Allie holds a Bachelors' degree in Music Performance from Campbell University. She is currently signed by a record label in California as a Pop / Country artist recording her first album. She is also a part-time worship leader at Christ Church in Hickory, NC. In addition, she has sung opera internationally and got into Master of Music Opera Performance Programs at Boston Conservatory, Indiana University, Julliard, and Mannes in NYC.
Performing is her passion. Singing is a huge part of her life, and she doesn't know where she'd be without the influential music instructors she's had in her life. Sharing her love of singing and hopefully being that influential person for other students - just like her music teachers were to her - is what drives her love for teaching.
Robby Underbrink
Bass, Guitar
Robbie was born in Charlotte and raised in Mooresville. His father encouraged he and his older brother to pursue music. Music has been an integral part of his life since he first picked up an acoustic guitar at age 14. Soon after, he picked up electric guitar as well as bass guitar.
He holds his Associate's Degree Arts & Performance from Central Piedmont Community College. Robby started in the youth worship band at Rocky Mount United Methodist Church in 2015 and soon became an active member of the modern worship band where he continues to play. In addition, Robby is an Eagle Scout as well as a performer and producer in two bands, "Underbrink" and "San Haim".